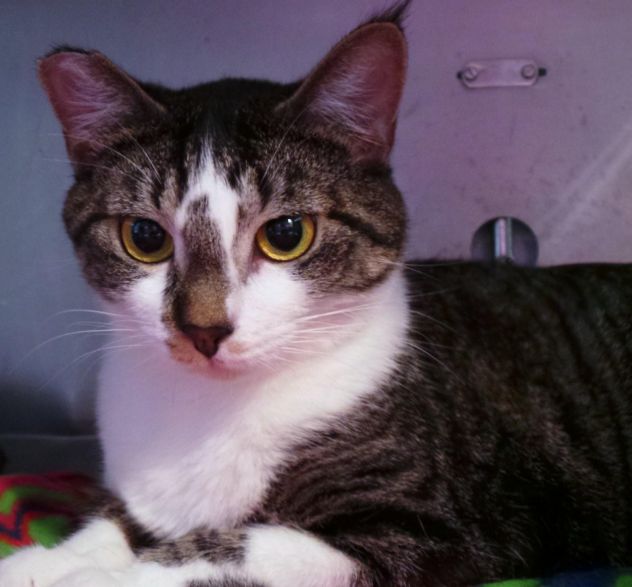 Name: Kenny
Age: About a year.
Breed: Domestic short hair, striped brown tabby with white.
Reason for being at shelter: Stray feral.
Description: Kenny continues to make improvement every day since she first arrived. She probably didn't get much in the line of socialization with people so she's rather skittish about human touch, but she's getting better about it and is beginning to love being petted if you develop a trust with her. She kneads her paws and purrs in response to a loving touch and especially likes her shoulder area rubbed. Kenny is curious-minded and displays intelligence through her eyes and we suspect she is just a very wirey but wise cat. She's a beautiful cat just wanting to open up her beauty from the inside, too. So far, she interacts well with other cats.
Kenny would be considered to be a good barn cat candidate because of her more semi-feral background. It's unfortunate she didn't get socialized at a young age but she didn't. However, she shows so much promise. She arrived as a stray and already ear-tipped which identified her as a free-roaming feral. If you have a farm or barn environment where Kenny can set up roots, she will fit in with adjustment time. Even though living a life as a barn cat, Kenny still requires regular feedings and provided care. She may be a good mouser but it doesn't necessarily mean she'll derive her whole diet from hunting. Kenny is just a year old and spayed