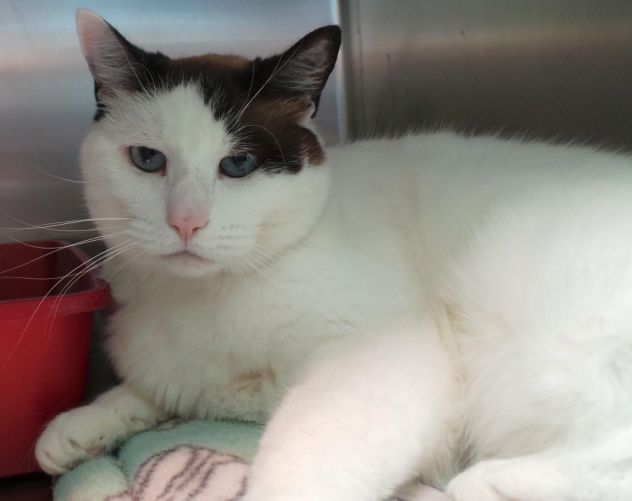 Name: Angel
Age: 12 years
Breed: Domestic short hair – white and brown (with blue eyes)
Reason for being at shelter: Owner surrender
Description: No other name could better describe this sweet cat called Angel who is lovable, gentle, cuddly and kind-natured. Angel is a soft and beautiful gift wrapped into one well-mannered cat package. You will enjoy cuddling this soft and sweet kitty as she likes to snuggle with people and enjoys resting on a good lap. Her grumpy-face look does not properly depict her demeanor. She is a great middle-aged cat with mature manners and a calm temperament. Angel offers a soft purr and a high-pitched meow greeting. She is generally mellow, low-maintenance and somewhat independent but can also be interactive and playful. Angel has been an indoor cat who successfully lived with adults, kids and a large dog. She is unaggressive and very loving. Angel is just a super cat. She will tip her brown cap, wink her blue eyes and swat her short tail to say thank you for adopting her.