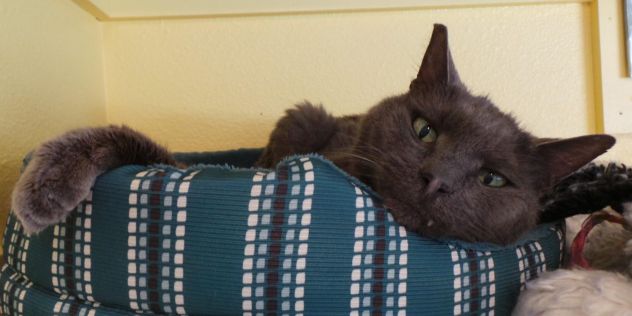 Name: Ezra
Age: 15 years old
Breed: Domestic short hair – Gray
Reason for being at shelter: Owner surrender
Description: Ezra is always friendly and always ready with something to say. He likes being chatty and to carry on a conversation with you. Are you willing to listen? Ezra is loving, gentle and affectionate and never aggressive. He adores human interaction and loves being with adult people. He's mild-mannered and even good with a nail trim but has no experience around young children. He's been good with female cats, kittens and small dogs but he HATES LARGE DOGS and will attack them. Ezra is a handsome gray with a tall and lanky stature and light green eyes. He's okay being held but would rather be free to roam about on his own 4 paws. Ezra is a special needs kitty because he's hypothyroid which requires a twice daily pill. But in the scheme of things, that's really a minor issue and a very easy treatment. Otherwise, he's a very healthy and happy 15 year old cat who loves wet food and will sometimes pilfer human food if given the chance. That need for food may be a byproduct of a high metabolism from hypothyroidism. Regardless, Ezra is still the most fantastic senior cat there is.