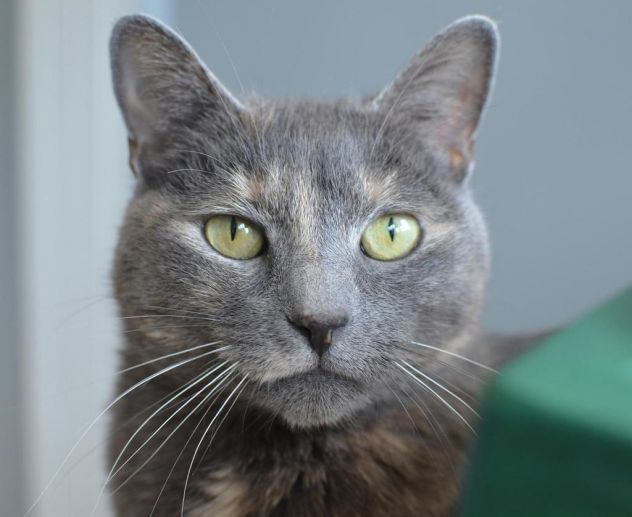 Name: Graysie
Age: 2 years old
Breed: Dilute Calico
Reason for being at shelter: Owner surrender (owner passed away)
Description: Graysie is 'all paws in' when it comes to playing in the water. Who knew she was such a diva about it? You can catch her with both front paws in the water bowl and water splattered everywhere while she displays a look as if this were normal and that she's done nothing wrong. What a silly girl. And don't let Graysie's coy personality fool you into thinking she doesn't like people because she most certainly does like people. Just talk to her, pet her and warm up to her and she comes out of her shell and really comes to life. Graysie is partial to women because that is who she'd always lived with. She is fearful of all dogs, most strangers and sometimes other animals so Graysie would do best in a calm and/or quiet home setting. Graysie is mostly shy and timid, doesn't like being picked up and is affectionate but cautious until she gets to know you. Once her comfort level is reached, she'll be your friend. She does like some good lap time and is easily encouraged to park it there for a while. Graysie is only 2 years old so her young age easily lends itself to her being very energetic. She has no annoying habits and is faithful to use her litter box. Graysie is a very nice young adult cat who would thrive in an adult home. She had a tendency to nip if you pulled away from petting her so a household with young children is considered not to be a good fit but that habit is disappearing now that she's in an open community room at the new shelter location. Come out and meet this water-quirky but adorable kitty.