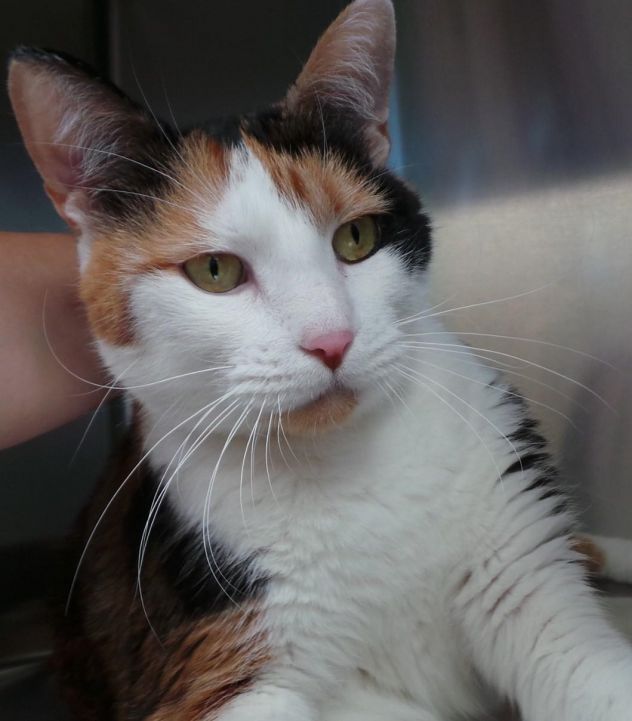 Name: Holly
Age: 4 years
Breed: Calico, Domestic short hair
Reason for being at shelter: Owner surrender
Description: Dear sweet Holly is a drooler-extraordinaire and a lovable kitty who greets you with a strong head butt. Call her name and she'll respond with a meow and then unearth herself from under the blanket to meet you. Holly knows her name and responds if you will be sociable with her. The shelter commotion and unfamiliar surroundings make her nervous so she hides under blankets. But she's not very good at making herself invisible when you call her name. She may be shy at first but she's an extremely affectionate kitty. She kneads her paws and drools all over your hands while getting her face rubbed. She likes to rest her head and body up against your arms where she finds comfort and security. Holly is an ultra-lovable girl but she's too shy for you to know it unless you are the initiator. She's such a beautiful and wonderful cat if she can get beyond her nervousness. Holly will thrive outside the shelter environment and in her own home with loving owners. She's a big Calico girl. She is sweet, gentle and tolerant when handled and pushed beyond her comfort zone so she will come around in time. Can you give Holly a hand in returning to a safe environment once again?