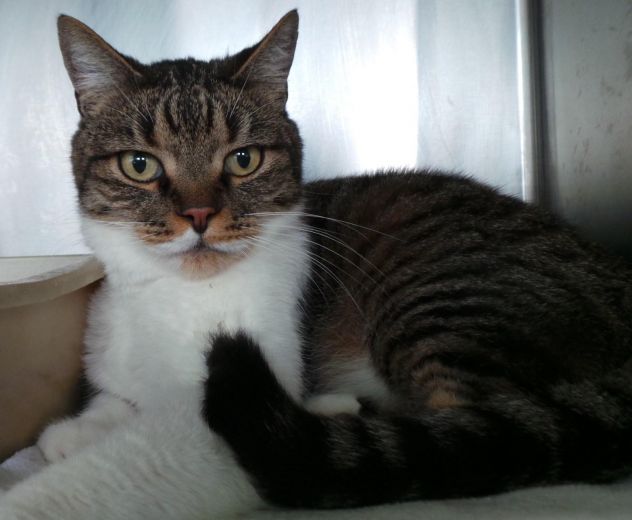 Name: Leo
Age: 10 years old
Breed: Mitted brown tabby – Domestic short hair
Reason for being at shelter: Owner surrender
Description: Someone likes his belly rubs. Yes, that's Leo. He beckons to be noticed and is a chatty boy to get your attention. Leo is shy with strangers and is easily spooked but once you make friends, he comes around to offer his full self. And he really relaxes once he gets his belly rubbed. Leo is a handsome tabby with white undercoat, a pudgy face and expressive eyes. He's good with adults, kids, small dogs and other cats. He has no annoying habits and has a fairly calm disposition. He's playful and friendly when he's not being coy and has been known to be a mouser. Leo likes attention but he's not super-needy. He does have a habit of lying down around your feet so be sure you're not on the move without looking first; he's just displaying his adoration and submissiveness toward you. Leo can even sense when you are feeling down and knows just when to inject his loving companionship to make you feel better. Leo is waiting for his new human buddy to take him home. Many great memories await with Leo in your life.