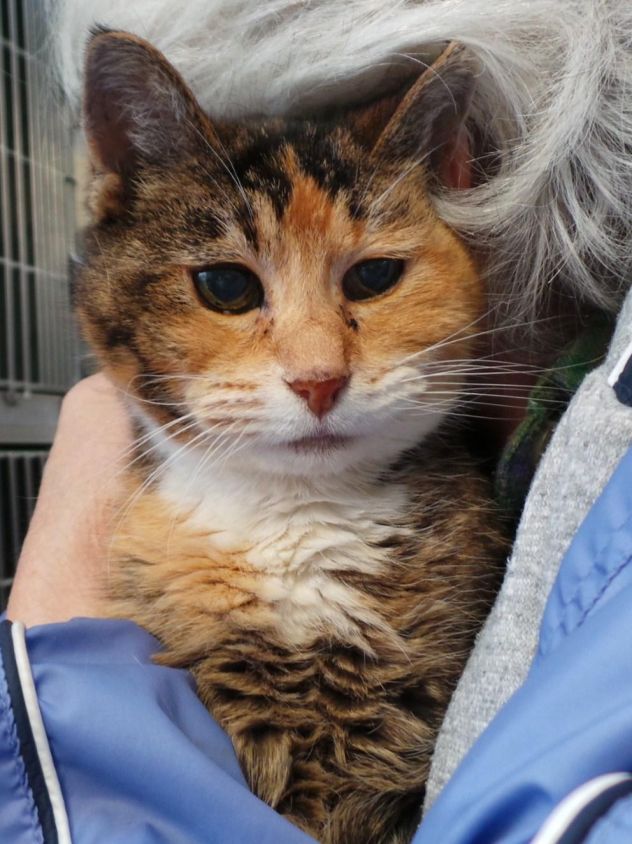 Name: Mavis
Age: 10 or more years old
Breed: Calico, Domestic short hair
Reason for being at shelter: Stray
Description: Sweet and petite is little Mavis; what a marvelous little kitty. She's a tiny girl with petite features but with a purr stronger than her little body. She looks a little scruffy with her fur-clumped coat which just maybe a result of being a stray in inclement weather. We're working on brushing that out as much as Mavis will tolerate. Mavis is a very well-socialized, domesticated and well-mannered kitty and even takes a nail trim with ease. Mavis might have fallen on hard times recently because she's quite thin and boney and rather frail. But she loves being petted and loves snuggling in your lap. She'll bury her head in your arm or lap while you pet her or even in her donut bed when she sleeps. Mavis may be more senior in age than we know but she's adorably loveable all the same. Mavis needs gentle handling because of her frail body which might be showing signs of arthritis. She's a sweet little girl with a natural pouty face and inset eyes who can give you quite an endearing look.