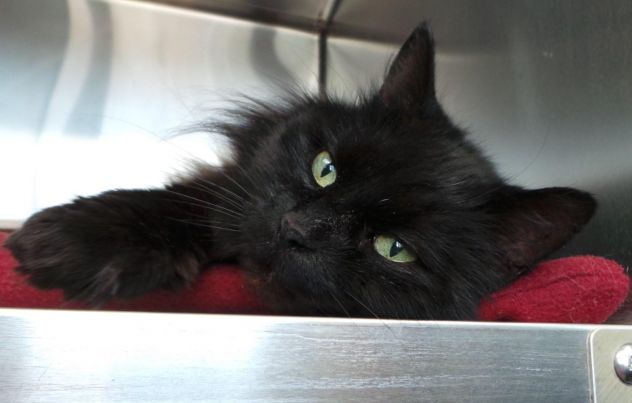 Name: Midnight
Age: About 10 years old
Breed: Domestic Long Hair – black
Reason for being at shelter: Owner surrender
Description: Midnight is just sort of a matter-of-fact type of cat; whatever it is, it is. She likes being petted and meeting new people. She likes being held and is comfortable outside her cage. She's able to sleep through the noise at the shelter and all the barking dog sounds, evident by her twitching deep sleep. Midnight is peaceful and subdued with a calm demeanor and nice purr. Midnight has a full mane and an auburn color at the ends of her fur around her mid section. She's quite fluffy and soft and her fur smells good, too. Midnight's history is unknown, even as an owner surrender cat, so we don't know if she's good with other cats or dogs; that is yet to be tested. But we do know she is good with people. Check out this beauty of a black cat named Midnight.