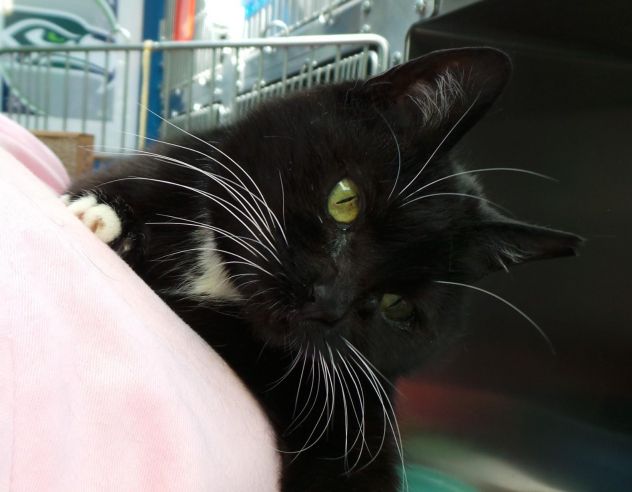 Name: Panda
Age: 6 year
Breed: Domestic short hair, black and white, tuxedo.
Reason for being at shelter: Stray.
Description: Panda is a sweetie who's no longer timid and has developed into quite a character. She adores people and loves to be held and petted and is very adamant about getting attention. She'll even give you a hug if you let her. She once was shy amid the chaos but now Panda seems to have accepted it but not sure she would do well in a home with dogs. She has a great purr and longs for the affection of people and appreciates human contact. She likes to lick your hand and give you a mini-bath to show her acceptance of you. When being held, she likes to give love bites on your neck or chin. She likes to be held atop your chest and even loves to play from that position. She's developing to be quite a personality. When on the ground, she'll put her front legs and paws up against your leg, begging to be picked up. Panda is about 6 years old. She arrived as a stray and has a chronic weepy eye and upper respiratory congestion but is otherwise healthy, lively and active. Panda has a small pudgy face full of white whiskers, the tiniest of paws and sweetness inside. Panda really is a dear little kitty who would love a forever friend to call her own. You will find Panda in the cat cubby room where she mingles with the other cats.