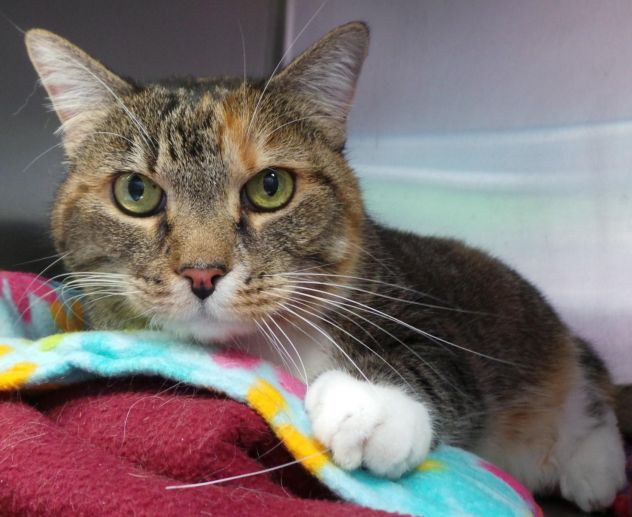 Name: Rebecca
Age: 10 years old
Breed: Torbie, Domestic short hair
Reason for being at shelter: Stray
Description: Who once was a very scared and timid kitty is now the chattiest of the bunch; especially when it's time for wet food. She just goes fanatical for it. She also yearns for human interaction and lets you know it. Rebecca is a sensitive and tender-natured kitty that doesn't like the sound of the cage door closing behind her. She's a really sweet kitty that now makes herself known so introduce yourself to Rebecca, make friends and she comes alive with affection. She adores human contact and yearns for their reassurance. Rebecca is just such a wonderful cat. Make inroads with her by being a loving and caring person toward her and by giving her the encouragement and support she needs. Rebecca will probably thrive best in a relaxed home environment. With peace, tranquility and love, Rebecca will blossom. She would appreciate a home atmosphere where kindness and calmness abound. Rebecca is a gorgeous mitted torbie. She is tall with a somewhat stocky build and about 10 years old. She's probably not a good fit for a chaotic household. All she needs is a good friend and a forever home to settle into.