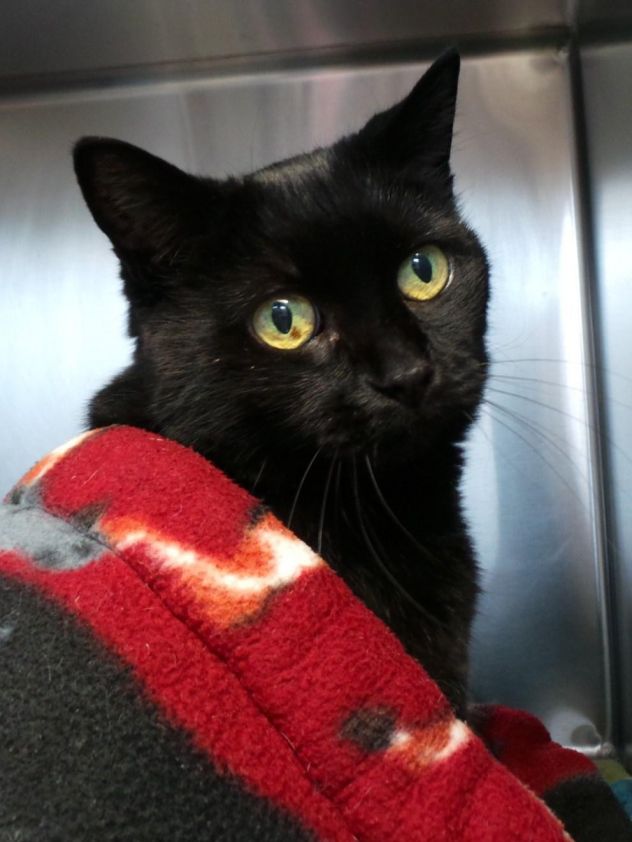 Name: Scout
Age: 12 years
Breed: Domestic short hair – Black
Reason for being at shelter: Owner surrender
Description: Once you pick her up, you'll know how much Scout loves to cuddle. She just likes to be held, loved on and appreciated and will purr softly in response. When it's not cuddle time in your arms, Scout is happy just to perch on your lap. She's a mellow, laid-back kitty who is never aggressive. She really isn't into the playing thing; she just wants to be a human's buddy. She loves to be brushed or combed. Scout is very good with people, especially women, but not with young children (teenagers okay) or dogs. She likes routine, as do most cats, and loves wet food. Scout fears vacuum cleaners and sharp noises and that may be why she acts shy and tends to hide under the blanket inside her cage at the shelter. A little time for adjustment should fix that. Scout has lived both indoors and outdoors and will be independent if need be. She's a no-fuss type of kitty and a very beautiful black cat.