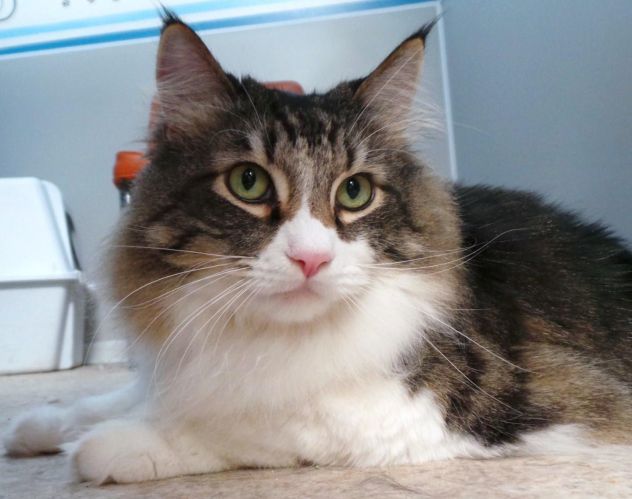 Name: Simon
Age: 8 years
Breed: Domestic Medium Hair – White with Brown Tabby
Reason for being at shelter: Owner passed away
Description: An alpha-cat ascribes Simon's personality and large not only explains his size but sometimes his attitude. His best friend was a man who recently passed away and Simon is missing that special someone in his life. He's particular about who he likes and also about his food; especially his treats. Simon lived in a home and tolerated a small dog but with his strong personality, he really doesn't respond well around other dogs or cats. Simon likes to be the initiator of contact, which allows him time to get to know you and to develop a trust before he accepts you. He likes being petted on the head and ears but not taken by surprise. Simon also likes to play and that may go a long way to calming his commanding nature. With his resilient personality, Simon is not one to back down from confrontation whether that is with people or other animals. His previous owner described him as a "warrior." Simon responds best to people who act neither threatening nor overly timid. Alpha cat, Simon, can become that special cat in your life if you allow him to be the King of his cat domain. Understanding the dimensions of a strong-willed cat will quickly get you to become Simon's new buddy for life.