OPHS Partners with Koenig Subaru for Share the Love Event
From now through January 3, 2017, when a new Subaru is leased or purchased at Koenig Subaru, Subaru will donate $250 to the Olympic Peninsula Humane Society. OPHS has been honored to be a part of Share the Love for the last two years and donations have reached more than $20,000. If you're in the market for a new Subaru and you love animals, this is a wonderful opportunity! Thank you Koenig Subaru for choosing to partner with OPHS again.
Join us for Yappy Hour!
Our annual Yappy Hour event in conjunction with Harbinger Winery will take place on Thursday, December 15 from
5 p.m. – 7 p.m.! Plan now to join us and take advantage of this opportunity to purchase a bottle (or more) of Menagerie, Harbinger's red wine benefitting OPHS. Enjoy this wine with your animal-loving friends and know that all of the profits are benefiting our four-legged friends in need! This is a fun event you won't want to miss!
Get Ready for 2017 with an OPHS Calendar
The 2017 OPHS calendar has arrived! For just $12 (that's only $1 per month!) you can help homeless animals currently at OPHS and enjoy cute photos of pets that have been saved in the past. Win-win! They are available at the shelter, during our off-site adoptions at Petco, and other local businesses! Or, you can order yours by clicking on the Donation button and typing "Calendar" in the notes section. Please add $1 for shipping.
 Pet of the Week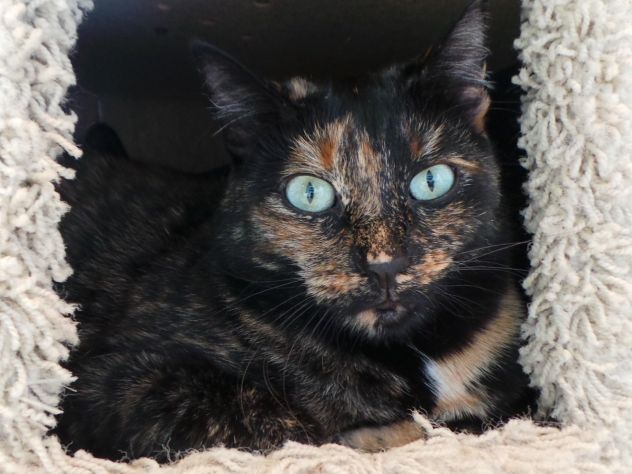 Name: Sheba
Age: About 1 year
Breed: Tortoiseshell
Reason for being at shelter: Stray
Description: Sheba was born feral as part of a litter of kittens on the Discovery Trail. Even though she was fostered in a home, she still displays a semi-feral character and doesn't really warm up to people as a home-grown domesticated cat would. Even though she's shy at first, she should become a little friendlier with time and patience. She is fearful of hands but can be touched on her back much easier than trying to approach her face. Being picked up is something that is unacceptable to Sheba. She is more prone to flee because of her distrust for people but a calm home-setting might go a long way to helping her relax. She has thrived better in her foster home than at the shelter where there are many people trying to interact with her. Sheba is okay with other cats; particularly Captain who is her sister. Sheba is a beautiful cat but reclusive-natured. She is not a good fit for young children or a chaotic household. She might be okay as an indoor/outdoor cat once familiar with her surroundings.
About OPHS
At the Olympic Peninsula Humane Society, we are committed to caring for and finding permanent homes for the homeless animals of Clallam County. As an open admission shelter, we take in any animal that is brought to us. We do not turn animals away. Each year approximately 2,000 animals are brought into the shelter. We rely on the generosity of our community to help care for our residents. Thank you to everyone who makes a donation or adopts an animal into your family.
Upcoming Events
Every Saturday – Petco Adoption, 10 a.m. – 2 p.m.
December 15 – Yappy Hour at Harbinger Winery, 5 p.m. – 7 p.m.
2016 OPHS Board Meeting Dates
Join us at 3:30 p.m. in the conference room at Green Crow,
727 E. 8th St., Port Angeles
December 15, 2016 (Third Thursday)
2017 OPHS Board Meeting Dates
Join us at 12 p.m. in the conference room at Green Crow,
727 E. 8th St., Port Angeles
January 26, 2017
February 23, 2017
March 23, 2017
April 27, 2017
May 25, 2017
June 22, 2017
July 27, 2017
August 24, 2017
September 28, 2017
October 26, 2017
November 16, 2017
December 21, 2017