Thank You Safeway!
We would like to send a huge THANKS to the Port Angeles Safeway on 3rd and Lincoln for collecting food for us AND to all the store customers who donated dog and cat food on Monday! We received over 50 bags of food!!! You guys are amazing!
Jackson the Mystery Dog 
Jackson, a one-year-old Doberman mix, was brought to the Olympic Peninsula Humane Society by two out of town visitors who found him wandering near Neah Bay. He was obviously very ill.
Although severely dehydrated, weak and unable to eat, Jackson was a sweet dog who quickly won over the staff at the shelter. He stayed at the shelter overnight but it was clear he was going to need more advanced care.
"He's the kind of dog that you immediately like," said staff veterinarian, Dr. Suzy Zustiak. "He had clearly been through a lot and we knew we had to figure out what was wrong and do everything we could to save him."
Jackson was taken to Olympic Veterinary Clinic in Port Angeles where a variety of tests were performed. None of the tests indicated what was wrong with him. His health was declining so the decision was made to perform exploratory surgery to see if a partial blockage or other obvious malady was causing his health issues. Surgery showed there was no blockage and nothing to indicate what the issue was.
He stayed at Olympic Vet for several days and was given various antibiotics, steroids, anti-nausea medicine and an appetite stimulant. As a last ditch effort, his steroids were increased and he finally started eating a little.
"The staff at Olympic Vet was awesome," said Mary Beth Wegener, Executive Director of the Olympic Peninsula Humane Society. "They worked with our vet and staff to solve the mystery and give Jackson a chance at a happy, healthy life."
Fast forward four weeks and Jackson is a lovable, happy boy, gaining weight and ready to be adopted into his forever home. The Humane Society is currently taking applications for him. His adoption fee is $150 which includes his neuter, rabies vaccine, microchip and a free health check at a vet.
The Olympic Peninsula Humane Society is able to provide animals like Jackson with advanced medical care thanks to Jerry's Fund. Jerry was a springer spaniel that came into the Olympic Peninsula Humane Society several years ago as a very ill puppy. Because he was ill beyond the shelter's ability to provide treatment, the staff called on the public to donate funds for his medical care. The public responded to the need, however, Jerry died before he could be treated.
Thanks to donations to the fund, the shelter had the money necessary to treat Jackson, however, the fund is now nearly depleted and donations are needed so that the shelter is ready for the next animal with serious medical issues. To make a donation, stop by any Kitsap Bank or the Olympic Peninsula Humane Society and mention that your donation is for Jerry's Fund. The shelter is located at 1743 Old Olympic Highway. You can also donate over the phone, (360) 457-8206, by mail, OPHS P.O. Box 3124 Port Angeles, WA 98362, or through our website.
Take Advantage of our "DOGust" Adoption Special!
*Currently available* and *Regularly priced* dogs now have HALF PRICED adoption fees through the month of August!!! Right now, our dog kennels are FULL and we are looking to only have HALF FULL dog kennels!
PLEASE COME TO ADOPT!
Note: Some dog's adoption fees do not qualify for the half price special. Visit us on Facebook for more information about the special!
Thanks for the Donations!
Delta Dental of Washington's Tooth Fairy and Smile Power team recently visited OPHS, bringing with them lots of supplies for the animals and smiles for the staff.
 Pet of the Week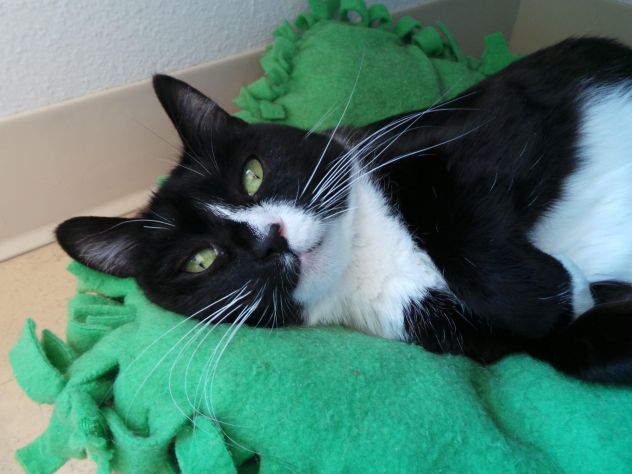 Name: Streaky
Age: 4 years old
Breed: Domestic short hair – black and white, Tuxedo
Reason for being at shelter: Owner surrender
Description: Streaky is a standout as the only black and white cat from an adult-aged litter. She might also be considered a standout from the group because she's capable of being more independent than the rest. But she's just as wonderful, easy-going, loving, friendly and affectionate as the rest of the gang. She likes being petted and responds well to kind words and a soft touch and she loves laser tag games. Streaky is great with other cats and okay around a mellow dog but has no exposure around children. She is gentle and sweet and never displayed a bad habit. Once you make friends, she'll follow you around and become a talker. Want to share your day's stories? Have a seat with Streaky and download to a cat who'll listen. Streaky is a pretty Tuxedo girl wanting to make new friends and find her forever home.
About OPHS
At the Olympic Peninsula Humane Society, we are committed to caring for and finding permanent homes for the homeless animals of Clallam County. As an open admission shelter, we take in any animal that is brought to us. We do not turn animals away. Each year approximately 2,000 animals are brought into the shelter. We rely on the generosity of our community to help care for our residents. Thank you to everyone who makes a donation or adopts an animal into your family.
Upcoming Events
Every Saturday – Petco Adoption, 10 a.m. – 2 p.m.
August 27 – Volunteer Orientation, noon
2016 OPHS Board Meeting Dates
Join us at 12 PM in the Carver Room, Port Angeles Library
August 25, 2016 (Green Crow conference room)
September 22, 2016
October 27, 2016
November 17, 2016 (Third Thursday)
December 15, 2016 (Third Thursday)