Happy New Year!
We are very excited about 2016 because this is the year we move to our new location on Old Olympic Highway! We anticipate moving by the end of February. The new location provides a much better environment for our animals, staff, volunteers and the public.
A huge thanks to all of our donors who have made this tremendous achievement possible. Check back often for updates and photos of he new dog kennel building!
 Pet of the Week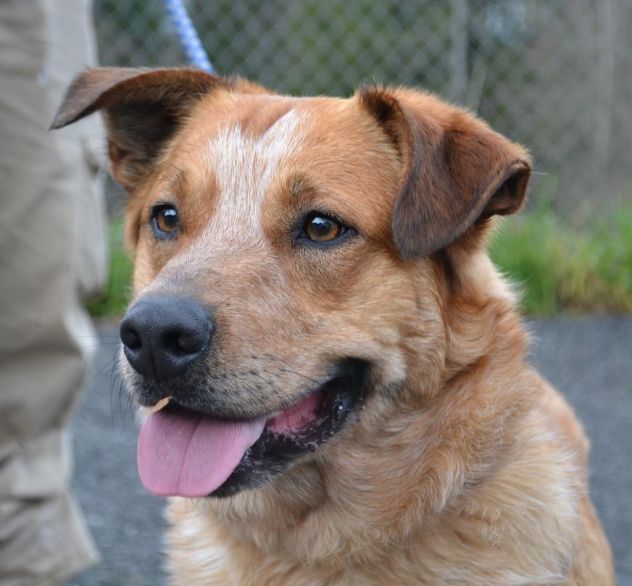 Name: Sam
Breed(s): Red Heeler — cattle dog mix
Age: About 2-3 yrs
Weight: About 55 lbs
Reason for being at shelter: Surrender — not good at living with other dogs
General info: Sam has had a rough start to his life… He was found as an injured stray on the road, and was nursed back to health by a good samaritan. Sam started living in a home with kids and other dogs; he did great with the kids, but he did not enjoy sharing his food and toys with other dogs. So, he will need to live as an ONLY dog, or live with someone who has the knowledge and ability to curb his food and toy aggression with other pets. Sam would do best in a home where he has lots of room to run and play — he really needs a home fenced yard. A heeler is NOT a good apartment dog! Sam has lots of potential and will be a great companion!
Adoption fee (includes spay/neuter, microchip, rabies vaccine, and a health check from a vet):
About OPHS
At the Olympic Peninsula Humane Society, we are committed to caring for and finding permanent homes for the homeless animals of Clallam County. As an open admission shelter, we take in any animal that is brought to us. We do not turn animals away. Each year approximately 2,000 animals are brought into the shelter. We rely on the generosity of our community to help care for our residents. Thank you to everyone who makes a donation or adopts an animal into your family.
Upcoming Events
Every Saturday – Petco Adoption 10 a.m. – 2 p.m.
Saturday, April 30 – Meowgaritas and Mutts at the Vern Burton
2016 OPHS Board Meeting Dates
Join us at 12 PM in the Carver Room, Port Angeles Library
February 25, 2016
March 24, 2016
April 28, 2016
May 26, 2016
June 23, 2016
July 28, 2016
August 25, 2016
September 22, 2016
October 27, 2016
November 17, 2016 (Third Thursday)
December 15, 2016 (Third Thursday)