New Year, New Hours at OPHS
The Olympic Peninsula Humane Society has new hours. We will be closed on Sunday and Wednesday and open every other day from 11 a.m. – 6:30 p.m. We're looking forward to an exciting 2017 at the shelter. Stop by and visit us!
Get Ready for 2017 with an OPHS Calendar
The 2017 OPHS calendar has arrived! For just $12 (that's only $1 per month!) you can help homeless animals currently at OPHS and enjoy cute photos of pets that have been saved in the past. Win-win! They are available at the shelter, during our off-site adoptions at Petco, and other local businesses! Or, you can order yours by clicking on the Donation button and typing "Calendar" in the notes section. Please add $1 for shipping.
 Pet of the Week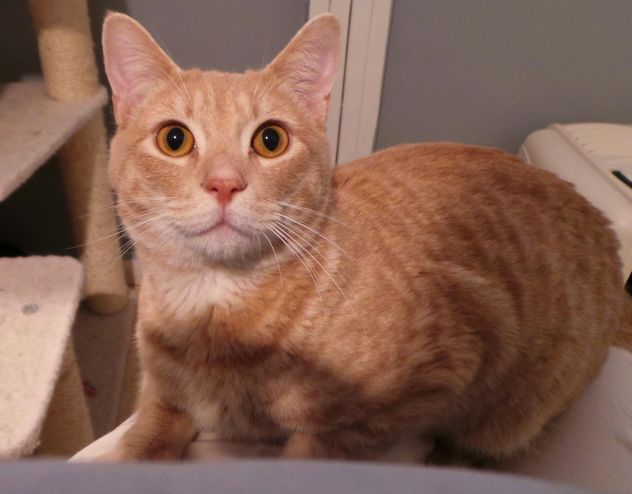 Name: Nolan
Age: About 1 year
Breed: Tabby
Reason for being at shelter: Owner surrender
Description: You can't miss the permanent smile on Nolan's face. There's no mistaking that he's a happy cat through and through. Nolan is friendly and loving and affectionate and gentle all day long. He's always eager to gain your affection and then moves onto your lap for a cuddle. Nolan is a very sweet boy, handsome to a tee and never fails to bring warmth to your soul. Nolan is great with other cats and should adapt well into any home.
About OPHS
At the Olympic Peninsula Humane Society, we are committed to caring for and finding permanent homes for the homeless animals of Clallam County. As an open admission shelter, we take in any animal that is brought to us. We do not turn animals away. Each year approximately 2,000 animals are brought into the shelter. We rely on the generosity of our community to help care for our residents. Thank you to everyone who makes a donation or adopts an animal into your family.
Upcoming Events
Every Saturday – Petco Adoption, 10 a.m. – 2 p.m.
Saturday, January 21 – Barks at Bada NW, 4 p.m. – 7 p.m.
Saturday, April 29 – 5th Annual Meowgaritas and Mutts Dinner and Auction
2017 OPHS Board Meeting Dates
Join us at 12 p.m. in the conference room at Green Crow,
727 E. 8th St., Port Angeles
January 26, 2017
February 23, 2017
March 23, 2017
April 27, 2017
May 25, 2017
June 22, 2017
July 27, 2017
August 24, 2017
September 28, 2017
October 26, 2017
November 16, 2017
December 21, 2017