Bow WOW!
 Progress continues on the new dog kennel building. We're counting the days until we can move to our new home at 1743 Old Olympic Highway!
Toga's Soup House Cutest Pet Contest
Chelsea Rice and her dog, Laya, are pictured with Toga and Lisa Hertzog, owners of Toga's Soup House. Laya was named cutest pet in Toga's Cutest Pet Contest. Chelsea received a $25 gift certificate to Toga's. The contest raised $300 for the Olympic Peninsula Humane Society. A big thank you to Toga's for running this contest and helping the shelter.
Pet of the Week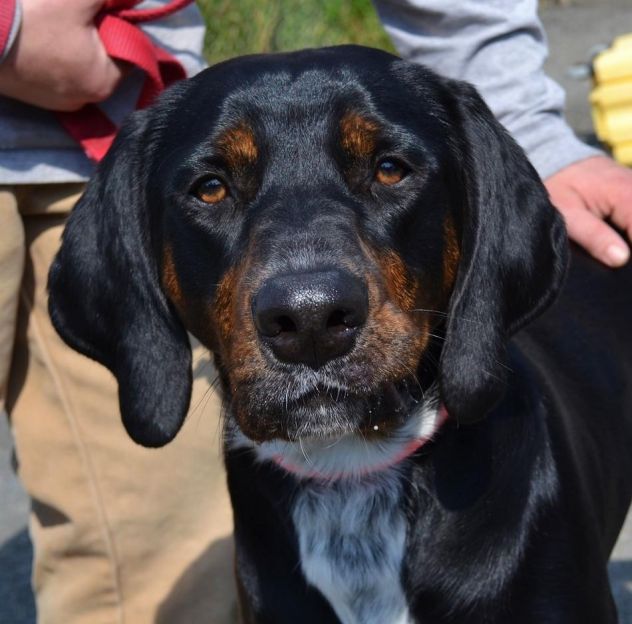 Name: Duncan
Breed(s): Hound mix
Age: 1.5 yrs
Weight: About 70 lbs
Reason for being at shelter: Owner Surrender
General info: Duncan is a friendly boy, but he does have some sharing issues… Duncan came to us because he has food and toy aggression. He has this sharing issue with both people and other dogs. We are trying to work with him on this as we do have experience in this area with other dogs. As of right now, he will need to go to a home with no other pets, and definitely NO small kids. Duncan is a high energy boy and would do best in a home where he has LOTS of room to run! Adoption fee (includes spay/neuter, microchip, rabies vaccine, and a health check from a vet): $120
About OPHS
At the Olympic Peninsula Humane Society, we are committed to caring for and finding permanent homes for the homeless animals of Clallam County. As an open admission shelter, we take in any animal that is brought to us. We do not turn animals away. Each year approximately 2,000 animals are brought into the shelter. We rely on the generosity of our community to help care for our residents. Thank you to everyone who makes a donation or adopts an animal into your family.
Upcoming Events
Every Saturday – Petco Adoption 10 a.m. – 2 p.m.
Clallam County Fair – August 20-23
2015 OPHS Board Meeting Dates
Join us at 12 PM in the Carver Room, Port Angeles Library
August 27 (GREEN CROW CONFERENCE ROOM)
September 24
October 22
November 19
December 17