McCrorie Carpet One Donates $2,700 to the Olympic Peninsula Humane Society's "DIG Deep" Campaign
David McCrorie, left, John McCrorie, center, co-owners of McCrorie Carpet One in Port Angeles, present a $2,700 check to Mary Beth Wegener, executive director of the Olympic Peninsula Humane Society. The money will help fund the construction of the humane society's new facility east of Port Angeles. Dogs are Stella (in John's lap), Lexie and, at right, Buddy.
Toga's Soup House Cutest Pet Contest
The Olympic Peninsula Humane Society and Toga's Soup House are teaming up to present Toga's Soup House Cutest Pet Contest. The winner will receive a $25 gift certificate from Toga's.
Save the Da
te! The third annual Meowgaritas and Mutts dinner and auction will take place on Saturday, April 25 at the the Vern Burton in Port Angeles. Tickets are just $50 per person with tables for eight available. To purchase your seat, call us at (360) 457-8206.
The live auction will have several great items including: 4 Seahawks tickets
March Newsletter
Click here to read our latest eNewsletter
Pet of the Week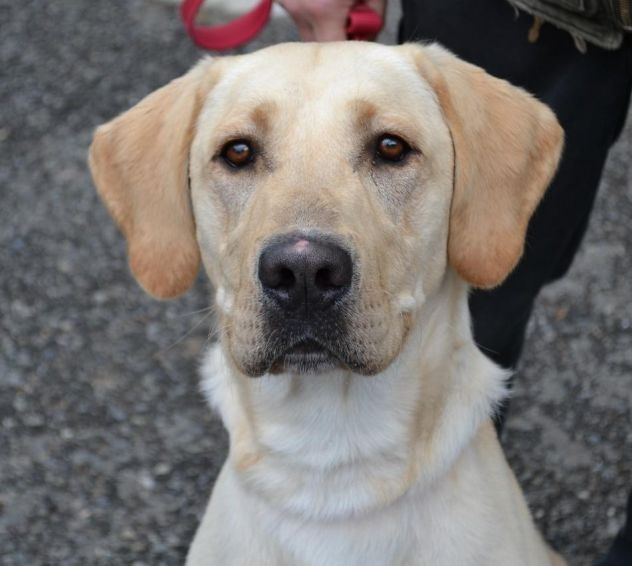 Name: Robert (aka Bob)
Breed(s): Yellow Lab
Age: 14 months
Weight: About 65 lbs (he's a little thin)
Reason for being at shelter: Owner surrender
General info: Robert is a super cute boy with TONS of energy! Typical lab… Robert is friendly with everyone, and would probably be a good playmate for another dog of similar energy. However, he does not do well with cats! Robert is used to being an outside dog, and has developed a bad habit of digging holes… So, he may need to transition to a house dog in order to stop his digging tendencies!
*** Robert will be available to go to a new home after he is neutered ***
Adoption fee (includes spay/neuter, microchip, rabies vaccine, and a health check from a vet): $120
 Our New Shelter
Dogs
are ready to move in?  The construction of our new shelter is underway. Recent donations are helping us to reach our goal for the "DIG Deep" capital campaign. These "dogs" stopped by for a photo opportunity at the construction site. We are still looking at moving to our new home at the end of the summer or early Fall.
To make a donation to our Dig Deep capital campaign, simply click on the Donate Now button at the top of this page or call us at (360) 457-8206.
About OPHS
At the Olympic Peninsula Humane Society, we are committed to caring for and finding permanent homes for the homeless animals of Clallam County. As an open admission shelter, we take in any animal that is brought to us. We do not turn animals away. Each year approximately 2,000 animals are brought into the shelter. We rely on the generosity of our community to help care for our residents. Thank you to everyone who makes a donation or adopts an animal into your family.

 Upcoming Events
Every Saturday – Petco Adoption 10 a.m. – 2 p.m.
April 25 – Meowgaritas & Mutts
Jewelry/Chocolates event at Nourish in Sequim Saturday, May 2, from noon to 5 PM
 2015 OPHS Board Meeting Dates
Join us at 12 PM in the Carver Room, Port Angeles Library
April 23
May 28
June 25
July 23
August 27 (GREEN CROW CONFERENCE ROOM)
September 24
October 22
November 19
December 17