We're Open for Business!
Thank you for your patience as we moved to our new facility at 1743 Old Olympic Highway! We are now fully operational and ready to serve your needs.
Please stop by anytime during our regular hours to tour the new facility, look at the animals available for adoption or just visit. We love showing off our new home!
Thank you for Supporting Meowgaritas and Mutts
We had a great evening on April 30th, celebrating our move and raising money to provide for the care and comfort of the animals at the Olympic Peninsula Humane Society.
We will be announcing our grand total in the next few weeks. Please plan to join us next year for more fun!
We Will be Closed on Memorial Day
The Olympic Peninsula Humane Society will be closed Monday, May 30 in observance of Memorial Day. We will open for regular hours (11 a.m. – 6:30 p.m.) on Tuesday.
 Pet of the Week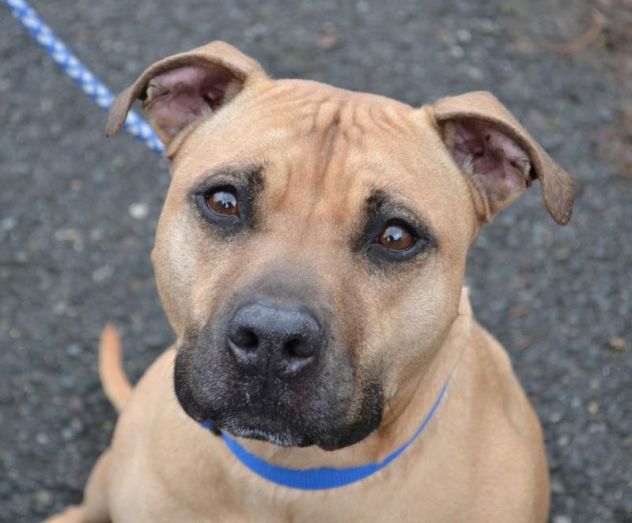 Name: Allie
Breed(s): Pit Bull
Age: About 7 yrs old
Weight: About 60 lbs
Reason for being at shelter: Owner Surrender — picky about other dogs
General info: Allie is a sweet pittie girl with a calm temperament. She can be a bit nervous with new people, but once she knows you she's very nice! Allie can be picky with her dog friends, so it would be best if she were the ONLY pet so as not to possibly stir up any drama in the home. Allie did have a knee surgery a while ago, so she has a scar on her leg, and is currently being for an infection in the same knee. This infection might be easily treatable, or may require more medical attention, we can't be sure yet… However, we will update more soon!
Adoption fee (includes spay/neuter, microchip, rabies vaccine, and a health check from a vet): $120
About OPHS
At the Olympic Peninsula Humane Society, we are committed to caring for and finding permanent homes for the homeless animals of Clallam County. As an open admission shelter, we take in any animal that is brought to us. We do not turn animals away. Each year approximately 2,000 animals are brought into the shelter. We rely on the generosity of our community to help care for our residents. Thank you to everyone who makes a donation or adopts an animal into your family.
Upcoming Events
Every Saturday – Petco Adoption 10 a.m. – 2 p.m.
2016 OPHS Board Meeting Dates
Join us at 12 PM in the Carver Room, Port Angeles Library
No May Board Meeting. Board will be attending a retreat
June 23, 2016
July 28, 2016
August 25, 2016
September 22, 2016
October 27, 2016
November 17, 2016 (Third Thursday)
December 15, 2016 (Third Thursday)