Bow WOW!
Shelter Will be Closed on Saturday, July 4
In observance of Independence Day, the Olympic Peninsula Humane Society will be closed on Saturday, July 4. Also, there will not be an adoption event at Petco on the 4th.
Toga's Soup House Cutest Pet Contest
Chelsea Rice and her dog, Laya, are pictured with Toga and Lisa Hertzog, owners of Toga's Soup House. Laya was named cutest pet in Toga's Cutest Pet Contest. Chelsea received a $25 gift certificate to Toga's. The contest raised $300 for the Olympic Peninsula Humane Society. A big thank you to Toga's for running this contest and helping the shelter.
Pet of the Week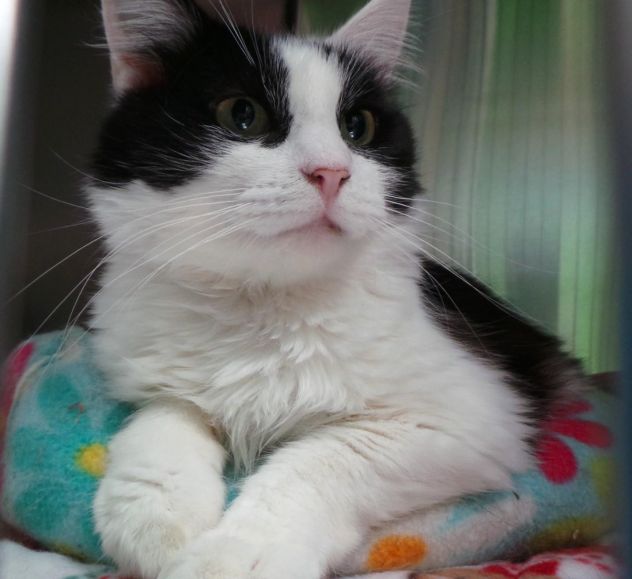 Name: Slushie
Age: About 1 year
Breed: Domestic Medium Hair – black and white
Reason for being at shelter: Trapped
Description: Slushie is a very shy and timid semi-feral little kitty. She is apprehensive about human contact but will accept a soft rub only if you approach her calmly and treat her gently. If not, she will run away. Sometimes with soft caresses, she will eventually start to purr. Slushie needs more socialization before being comfortable as an indoor cat but there is hope. She is ear-tipped to designate being spayed and may be a barn cat candidate because of her limited social skills with people. Her sibling, Winger, definitely changed into a friendly and loving boy so there is potential for her, too. Slushie just needs more time and work from a devoted and patient owner. Will that be you?
About OPHS
At the Olympic Peninsula Humane Society, we are committed to caring for and finding permanent homes for the homeless animals of Clallam County. As an open admission shelter, we take in any animal that is brought to us. We do not turn animals away. Each year approximately 2,000 animals are brought into the shelter. We rely on the generosity of our community to help care for our residents. Thank you to everyone who makes a donation or adopts an animal into your family.
Upcoming Events
Every Saturday – Petco Adoption 10 a.m. – 2 p.m.
Month of June – OPHS is the Charity of the Month at Jim's Pharmacy
Clallam County Fair – August 20-23
2015 OPHS Board Meeting Dates
Join us at 12 PM in the Carver Room, Port Angeles Library
July 23
August 27 (GREEN CROW CONFERENCE ROOM)
September 24
October 22
November 19
December 17