Sign up today for Volunteer Orientation!
Now that we're settled in at our new location, we are asking all volunteers (current and new) to attend a Volunteer Orientation session. Dog and cat topics will be addressed as will volunteering at offsite adoption events.
The first session will be held on Wednesday, July 13 at 5 p.m. at the shelter. Immediately following the session will be an Introduction to Dog Walking which is mandatory for all dog volunteers.
A second orientation will be held on Saturday, July 30 at noon at the shelter.
To register for a session, please e-mail volunteer@ophumanesociety.org. OPHS will offer volunteer orientations on the second Wednesday and last Saturday of each month.
Meowgaritas and Mutts raises $123,000!
The fourth annual, Meowgaritas and Mutts dinner and auction raised a whopping $123,000 to benefit the Olympic Peninsula Humane Society! Nearly 400 people attended the event and showed their support for OPHS in a big way! Please plan to join us for next year's event on Saturday, April 29, 2017.
Koenig Subaru Present OPHS with $12,470
Bill Koenig Jr. from Koenig Subaru presented a check for $12,470 from Subaru's Share the Love program. Koenig Subaru has selected OPHS as a beneficiary of Share the Love for the past two years.
Pictured below are, from left to right, Buddy the Ambassadog, Mary Beth Wegener, Executive Director of OPHS, Bill Koenig Jr. and Linda Crow, OPHS Board President.
 Pet of the Week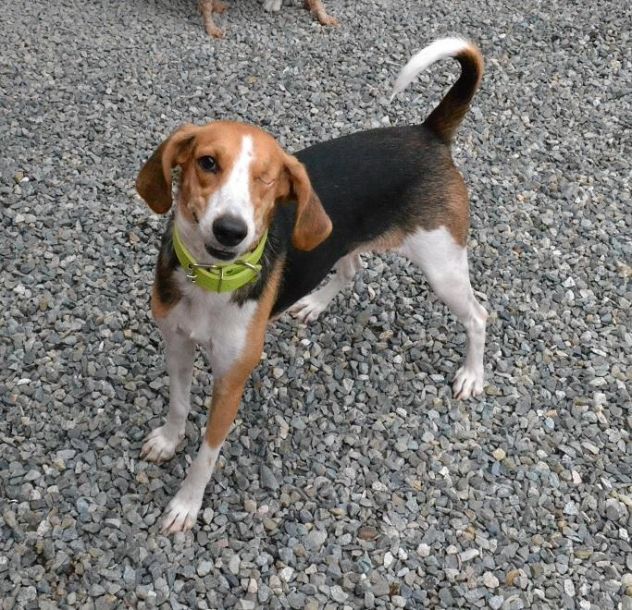 Name: Wilma (One-Eyed Wilma)
Breed(s): Hound mixed with maybe Beagle?
Age: About 3 yrs
Weight: About 40 lbs
Reason for being at shelter: Transferred in from Florida
General info: Wilma is such a sweetheart! She can be shy and overwhelmed by a lot of action, but she longs to warm up to people and just be loved on. Wilma is great with other dogs and loves to play with her "sister hound" Lauren (see photo)! We are not sure how Wilma lost her eye, and she still seems to be getting used to just having half of her vision. However, it does not affect her daily activities, and her ability to be a hound! Wilma would do best with an owner that understands hounds, and has a very well fenced yard to keep her from "hounding" too much and getting lost… Wilma recently traveled over 3000 miles from a high-kill shelter in Florida to find a new home in the Pacific Northwest, she is ready to find her forever loving home!!!
Adoption fee (includes spay/neuter, microchip, rabies vaccine, and a health check from a vet): $120
About OPHS
At the Olympic Peninsula Humane Society, we are committed to caring for and finding permanent homes for the homeless animals of Clallam County. As an open admission shelter, we take in any animal that is brought to us. We do not turn animals away. Each year approximately 2,000 animals are brought into the shelter. We rely on the generosity of our community to help care for our residents. Thank you to everyone who makes a donation or adopts an animal into your family.
Upcoming Events
Every Saturday – Petco Adoption, 10 a.m. – 2 p.m.
July 13 at 5 p.m. – Volunteer Orientation at OPHS
July 13 at 6:30 p.m. – Introduction to Dog Walking
July 30 at noon – Volunteer Orientation at OPHS
2016 OPHS Board Meeting Dates
Join us at 12 PM in the Carver Room, Port Angeles Library
July 28, 2016
August 25, 2016 (Green Crow conference room)
September 22, 2016
October 27, 2016
November 17, 2016 (Third Thursday)
December 15, 2016 (Third Thursday)