We're Having a Party!
Join us for our Community Open House on Saturday, June 25th between 11 a.m. and 3 p.m.! Take a tour of our new facility at 1743 Old Olympic Highway, enjoy a piece of cake and meet our animals. We can't wait to show you our new home!
Meowgaritas and Mutts raises $123,000!
The fourth annual, Meowgaritas and Mutts dinner and auction raised a whopping $123,000 to benefit the Olympic Peninsula Humane Society! Nearly 400 people attended the event and showed their support for OPHS in a big way! Please plan to join us for next year's event on Saturday, April 29, 2017.
Koenig Subaru Present OPHS with $12,470
Bill Koenig Jr. from Koenig Subaru presented a check for $12,470 from Subaru's Share the Love program. Koenig Subaru has selected OPHS as a beneficiary of Share the Love for the past two years.
Pictured below are, from left to right, Buddy the Ambassadog, Mary Beth Wegener, Executive Director of OPHS, Bill Koenig Jr. and Linda Crow, OPHS Board President.
 Pet of the Week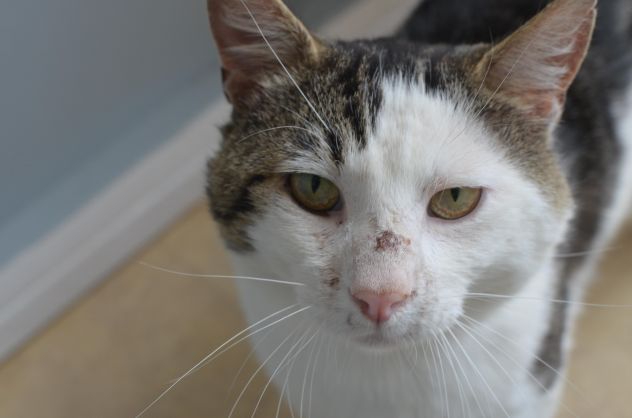 Name: Lucas
Age: 5 Years
Breed: Domestic Short Hair
Reason for being at shelter: Stray – Trapped
Description: For the love of kibble and catnip, do not make the mistake of judging Lucas by his bruiser alley cat (good) looks. Obviously, he's had a few run-ins on the streets, but when you meet him, you'll see he's a gentleman through and through. If anything, his street smarts has helped him learn how to deal with life as the most well adjusted cat should – find a sunbeam and just ride it out. Smart (already knows how to escape his room), chill as cucumber, he's shown us how he gets along with other cats and loves pretty much anyone with head scratches to hand out. Come fall in love with this handsome man!
About OPHS
At the Olympic Peninsula Humane Society, we are committed to caring for and finding permanent homes for the homeless animals of Clallam County. As an open admission shelter, we take in any animal that is brought to us. We do not turn animals away. Each year approximately 2,000 animals are brought into the shelter. We rely on the generosity of our community to help care for our residents. Thank you to everyone who makes a donation or adopts an animal into your family.
Upcoming Events
Every Saturday – Petco Adoption, 10 a.m. – 2 p.m.
Saturday, June 25 – Community Open House, 11 a.m. – 3 p.m.
Wednesday, June 29 – Jim's Pharmacy Hot Dogs and Bake Sale, Noon – 2 p.m.
2016 OPHS Board Meeting Dates
Join us at 12 PM in the Carver Room, Port Angeles Library
July 28, 2016
August 25, 2016
September 22, 2016
October 27, 2016
November 17, 2016 (Third Thursday)
December 15, 2016 (Third Thursday)