Low-Cost Microchip and License Clinic, Saturday, July 1
Every year, OPHS sees a large influx of stray dogs and receives numerous phone calls about lost dogs in the days following the 4th of July. To try to reduce these numbers, we're holding a low-cost microchip and license clinic on Saturday, July 1 from 1-3 p.m.
Home Again microchips will be available for $20 including registration. OPHS normally charges $35 for a microchip and registration.
Dogs and cats living in Clallam County, City of Sequim and the City of Port Angeles are legally required to be licensed. At the clinic, annual licenses will be available for just $5 when having an animal microchipped. The same price applies to animals already chipped and spayed or neutered. The regular cost for an annual license is $10.
Lifetime licenses will also be available at the clinic for $20 if the pet is also being microchipped and is spayed or neutered or if the pet is already chipped and spayed/neutered.
For more information regarding the clinic, please call the shelter at (360) 457-8206
$130,000! That's how much we raised at our 5th Annual Meowgaritas and Mutts!
Thank you to everyone who attended, donated an item or sponsored the event. All of you helped make it a night to remember! Sponsors include:
Petco Foundation
Green Crow
Sound Community Bank
Olympic Veterinary Clinic
Evergreen Meats
Blue Mountain Veterinary Clinic
Kitsap Bank
7 Cedars
First Federal
Baker, Overby and Moore
Umpqua Bank
Ace Michaels Construction
A Walk for the Animals
Bill Fay as Crazy Stan the Animal Man is attempting to raise money for animal shelters and rescue organizations by a 300-mile walk along the Washington Coast. OPHS is excited to be one of 10 animal welfare groups that will benefit from money raised during the walk.
Follow the adventures of Crazy Stan the Animal Man on Facebook: Facebook.com/CrazyStanTheAnimalMan
Pet of the Week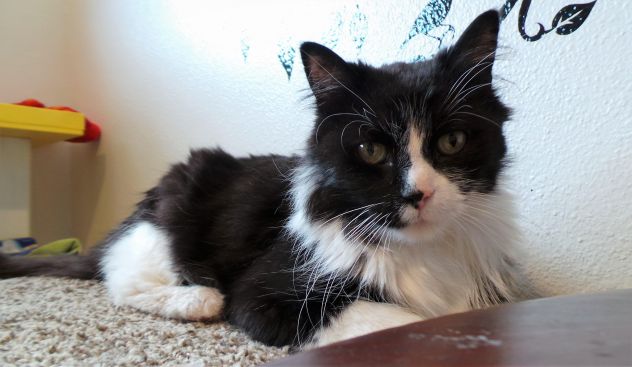 Name: Little Prince
Age: 9 years
Breed: Tuxedo
Reason for being at shelter: Owner surrender
Description: Little Prince is a handsome man full of wisdom. You may not find another cat as friendly and personable as Little Prince. His name matches his personality very well. He's loving and gentle and calm and relaxed. He's the first to make introductions and will seek you out if you are in the room. All he wants is your friendship, a soft lap and a loving embrace and Little Prince will cling to you forever. Little Prince is good with other cats but would be just as happy as an only cat. He's good with adults and children alike. He's a real sweetie-pie and dear boy. Mature adult cats are the greatest companions; mellow and loving. Little Prince is a purrfect example of that. Little Prince is bored at the shelter and is beginning to harass the other cats just out of sheer boredom. He could use a home setting where he can roam about and find interest elsewhere.
About OPHS
At the Olympic Peninsula Humane Society, we are committed to caring for and finding permanent homes for the homeless animals of Clallam County. As an open admission shelter, we take in any animal that is brought to us. We do not turn animals away. Each year approximately 2,000 animals are brought into the shelter. We rely on the generosity of our community to help care for our residents. Thank you to everyone who makes a donation or adopts an animal into your family.
Upcoming Events
Every Saturday – Petco Adoption, 10 a.m. – 2 p.m.
Saturday, July 1 – Microchip and License Clinic, 1-3 p.m.
2017 OPHS Board Meeting Dates
Join us at 12 p.m. in the conference room at Green Crow,
727 E. 8th St., Port Angeles
June 22, 2017 (This meeting will be held at OPHS, 1743 Old Olympic Highway)
July 27, 2017
August 24, 2017
September 28, 2017
October 26, 2017
November 16, 2017
December 21, 2017