We're Moving!!!
The Olympic Peninsula Humane Society is CLOSED TEMPORARILY for adoptions while we move to our new location at 1743 Old Olympic Highway.
If you need to surrender an animal, have lost or found an animal, or you require our assistance, please call us at 360-457-8206 or email info@ophumanesociety.org.
The Cats Will Have Better Digs Too!
Not only will the dogs have a great new building at our new location, so will the cats! It's not the final product yet, but for the next few years, Kitty City will be located in an existing modular on our property.
Here's a look at our community cat rooms. They were completed last week and are ready for paint and decoration! There are five rooms with the ability to hold 4-5 cats each.
Potential adopters will be welcomed and encouraged to enter the rooms to visit and interact with the cats!
The rest of Kitty City will feature a spacious outdoor catio, a community super-senior cat room, and cat condos to house the rest of the cats and kittens separately.
 Pet of the Week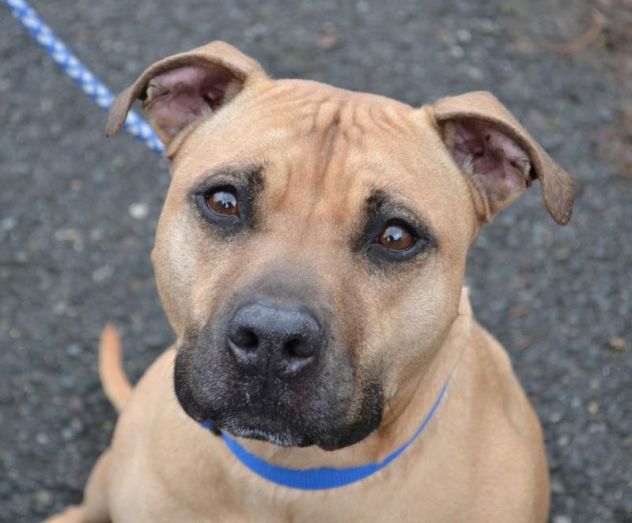 Name: Allie
Breed(s): Pit Bull
Age: About 7 yrs old
Weight: About 60 lbs
Reason for being at shelter: Owner Surrender — picky about other dogs
General info: Allie is a sweet pittie girl with a calm temperament. She can be a bit nervous with new people, but once she knows you she's very nice! Allie can be picky with her dog friends, so it would be best if she were the ONLY pet so as not to possibly stir up any drama in the home. Allie did have a knee surgery a while ago, so she has a scar on her leg, and is currently being for an infection in the same knee. This infection might be easily treatable, or may require more medical attention, we can't be sure yet… However, we will update more soon!
Adoption fee (includes spay/neuter, microchip, rabies vaccine, and a health check from a vet): $120
About OPHS
At the Olympic Peninsula Humane Society, we are committed to caring for and finding permanent homes for the homeless animals of Clallam County. As an open admission shelter, we take in any animal that is brought to us. We do not turn animals away. Each year approximately 2,000 animals are brought into the shelter. We rely on the generosity of our community to help care for our residents. Thank you to everyone who makes a donation or adopts an animal into your family.
Upcoming Events
Every Saturday – Petco Adoption 10 a.m. – 2 p.m.
Saturday, April 30 – Meowgaritas and Mutts at the Vern Burton
2016 OPHS Board Meeting Dates
Join us at 12 PM in the Carver Room, Port Angeles Library
February 25, 2016
March 24, 2016
April 28, 2016
May 26, 2016
June 23, 2016
July 28, 2016
August 25, 2016
September 22, 2016
October 27, 2016
November 17, 2016 (Third Thursday)
December 15, 2016 (Third Thursday)