Summertime at the Shelter!
We are so excited to have a new play yard for the dogs just in time for summer fun! There's lots of ball chasing and pool splashing going on these days at OPHS.
Thank you to our generous donors who made the play yard possible!
$130,000! That's how much we raised at our 5th Annual Meowgaritas and Mutts!
Thank you to everyone who attended, donated an item or sponsored the event. All of you helped make it a night to remember! Sponsors include:
Petco Foundation
Green Crow
Sound Community Bank
Olympic Veterinary Clinic
Evergreen Meats
Blue Mountain Veterinary Clinic
Kitsap Bank
7 Cedars
First Federal
Baker, Overby and Moore
Umpqua Bank
Ace Michaels Construction
A Walk for the Animals
Bill Fay as Crazy Stan the Animal Man is attempting to raise money for animal shelters and rescue organizations by a 300-mile walk along the Washington Coast. OPHS is excited to be one of 10 animal welfare groups that will benefit from money raised during the walk.
Follow the adventures of Crazy Stan the Animal Man on Facebook: Facebook.com/CrazyStanTheAnimalMan
Pet of the Week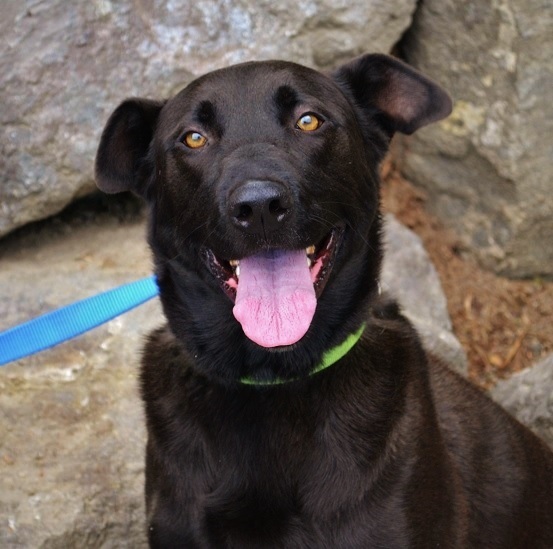 Name: Sounder
Breed(s): Lab mix
Age: About 2 yrs
Weight: About 70 lbs
Reason for being at shelter: Surrender — can't keep
General info: Sounder is sweet girl! She can be shy and timid, and she does not like having to stay in her kennel… But once she is out with people, she warms up and is pretty affectionate. She will make a great dog for someone, she just have to overcome her shyness!
Adoption fee (includes spay/neuter, microchip, rabies vaccine, and a health check from a vet): $150
About OPHS
At the Olympic Peninsula Humane Society, we are committed to caring for and finding permanent homes for the homeless animals of Clallam County. As an open admission shelter, we take in any animal that is brought to us. We do not turn animals away. Each year approximately 2,000 animals are brought into the shelter. We rely on the generosity of our community to help care for our residents. Thank you to everyone who makes a donation or adopts an animal into your family.
Upcoming Events
Every Saturday – Petco Adoption, 10 a.m. – 2 p.m.
Due to a recent change in our Bylaws, attendance at regularly scheduled monthly Board meetings will be open to OPHS Board Directors, the Executive Director and invited guests only.
We continue to value your written feedback which may be sent to: OPHSfeedback1@gmail.com