Meowgaritas & Mutts Dinner and Auction Raises Significant Funds for the Olympic Peninsula Humane Society 
The Olympic Peninsula Humane Society is significantly closer to its goal of $1.4 million for the construction of its new dog kennel facility on Old Olympic Highway.
The third annual Meowgaritas and Mutts event brought in $121,000 – $100,000 from the dinner and auction, $11,000 from Subaru's Share the Love promotion through Koenig Subaru and $10,000 from a matching grant from Nordstrom.
Read the full press release here.
Thanks to Subaru for allowing local dealer, Koenig Subaru, to include OPHS in the Share the Love promotion
Left to right: Bill Koenig Sr, Kandace Pierce (OPHS Board President), Mary Beth Wegener (OPHS Executive Director),  Bill Koenig Jr. The check was presented at Meowgaritas and Mutts.
Toga's Soup House Cutest Pet Contest
The Olympic Peninsula Humane Society and Toga's Soup House are teaming up to present Toga's Soup House Cutest Pet Contest. The winner will receive a $25 gift certificate from Toga's.
March Newsletter
Click here to read our latest eNewsletter
Pet of the Week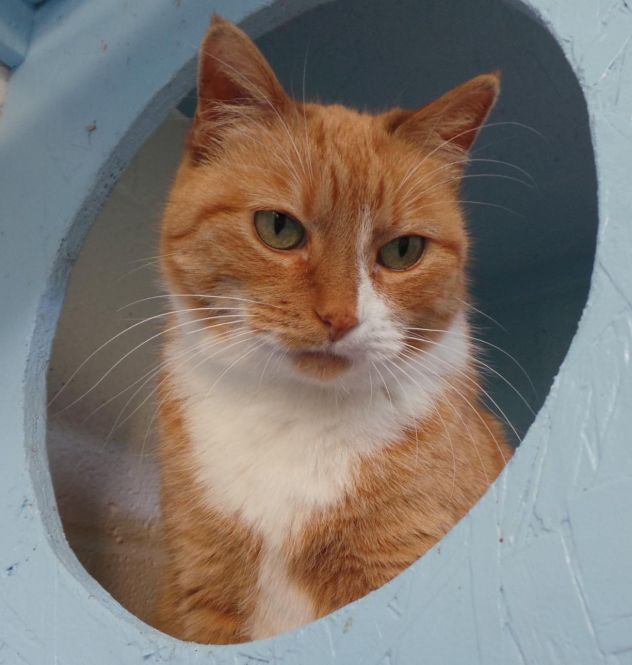 Cute little Mandrin. She poses with such sweetness just waiting to be petted. And Mandrin is a kitty who sure likes to be petted. You can stroke her from the top of her head to the tip of her tail; that makes her happy. Her green eyes are giant-size, alert and on the lookout for comfort hands from humans for the rubs they can offer. She's apprehensive about being held but time and environment may change that. Mandrin is a small cat, senior in age at 13 years and already spayed. She's a sweet and gentle cat and very pretty with her white bib and white accents on her nose and muzzle. She is a short-legged kitty with a little roundness to her middle. If she were a dog, she'd have the body of a Corgi. Mandrin is a kitty who appreciates being petted and loved on and would make a great little lap companion. Right now, she is in the cat cubby; room hanging out with a few other cats. She's fond of people and the love they offer but doesn't care to interact with the other cats too much. She appreciates the ability to room about and discover the new space and is really opening up in personality now that she's in a room instead of a cage. She's quickly becoming a volunteer's favorite. Check out cute Mandrin in the cat cubby.
Contact the shelter about her special adoption price.
Our New Shelter
Dogs
are ready to move in?  The construction of our new shelter is underway. Recent donations are helping us to reach our goal for the "DIG Deep" capital campaign. These "dogs" stopped by for a photo opportunity at the construction site. We are still looking at moving to our new home at the end of the summer or early Fall.
To make a donation to our Dig Deep capital campaign, simply click on the Donate Now button at the top of this page or call us at (360) 457-8206.
About OPHS
At the Olympic Peninsula Humane Society, we are committed to caring for and finding permanent homes for the homeless animals of Clallam County. As an open admission shelter, we take in any animal that is brought to us. We do not turn animals away. Each year approximately 2,000 animals are brought into the shelter. We rely on the generosity of our community to help care for our residents. Thank you to everyone who makes a donation or adopts an animal into your family.

 Upcoming Events
Every Saturday – Petco Adoption 10 a.m. – 2 p.m.
Friday-Monday (5/22-5/25) Juan de Fuca Festival. Stop by and visit local artist, Jeff Becker who will be selling artwork to benefit OPHS.
 2015 OPHS Board Meeting Dates
Join us at 12 PM in the Carver Room, Port Angeles Library
May 28
June 25
July 23
August 27 (GREEN CROW CONFERENCE ROOM)
September 24
October 22
November 19
December 17