Save the Date! The third annual Meowgaritas and Mutts dinner and auction will take place on Saturday, April 25 at the the Vern Burton in Port Angeles. Tickets are just $50 per person with tables for eight available. To purchase your seat, call us at (360) 457-8206.
Pet of the Week:  Beulah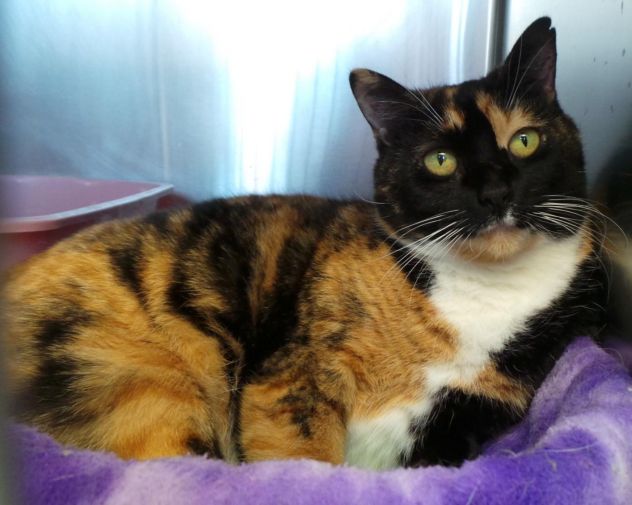 She can be a shy one but she sure is a beautiful one. And once you make friends with her and pet her, she begins to relax and forget about her coyness. Beulah has a round pudgy face, a small stocky body and shortened tail. Her coat has more orange or fawn color than black except on her face which is unusual for calicos because they seem to have more black on their body than orange. All the same, she is a pretty kitty. Beulah just needs some calm interaction and a reassuring touch to become more comfortable with human contact. She does have a good purr and will share that when she is calm. Beulah is a quiet kitty and is of no fuss whatsoever. She will make a nice companion to someone who's open to developing a friendship with her and giving her the time it takes to get there. Beulah is a young adult female, already spayed
Our New Shelter
Construction has really taken off at the shelter's new site on Old Olympic Highway! This photo was taken on February 2nd and shows the walls and the kennels. We are still looking at moving to our new home at the end of the summer or early Fall.
To make a donation to our Dig Deep capital campaign, simply click on the Donate Now button at the top of this page or call us at (360) 457-8206.
About OPHS
At the Olympic Peninsula Humane Society, we are committed to caring for and finding permanent homes for the homeless animals of Clallam County. As an open admission shelter, we take in any animal that is brought to us. We do not turn animals away. Each year approximately 2,000 animals are brought into the shelter. We rely on the generosity of our community to help care for our residents. Thank you to everyone who makes a donation or adopts an animal into your family.

 Upcoming Events
March 8 – Petco Adoption 10 a.m. – 2 p.m.
March 14-15 – KONP Home Show
April 25 – Meowgaritas & Mutts