Get Ready for Meowgaritas and Mutts Presented by the Petco Foundation!
Our 5th annual Meowgaritas and Mutts dinner and auction will take place on Saturday, April 29th at the Vern Burton in Port Angeles, Plan now to join us for this fun event as we look to raise funds for the animals in our care at OPHS.
Seats are $50 per person or a table of eight for $400. The evening includes one complimentary margarita, a fantastic Mexican fiesta catered by Little Devils Lunchbox and the opportunity to bid on one-of-a-kind items in the silent and live auction.
To purchase your seat, call OPHS at (360) 457-8206.
Pet of the Week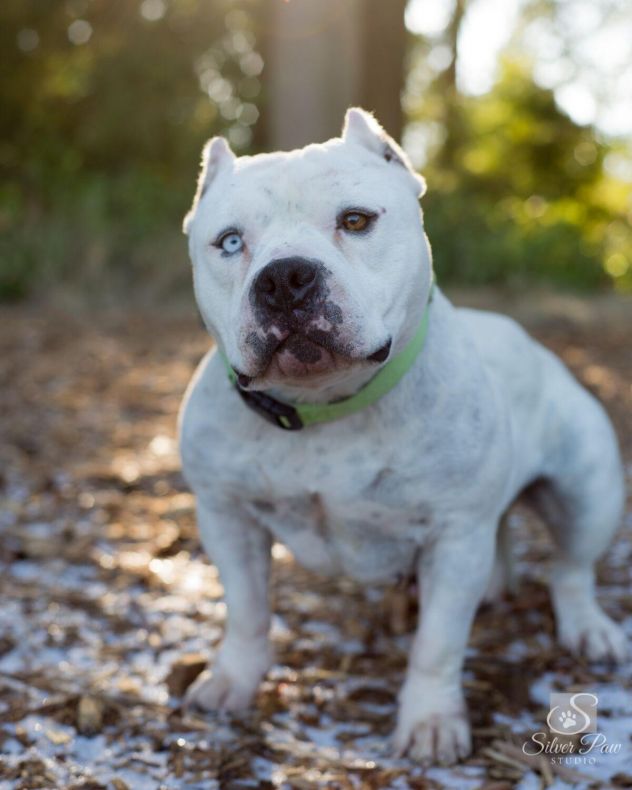 Name: Ursa
Breed(s): American Bully / Exotic Bully
Age: About 5 yrs old
Weight: About 55 lbs
Reason for being at shelter: Transfer in from California
General info: Ursa is a SUPER sweetheart! She LOVES people and is very gentle and snuggly. We are not exactly sure how she does with other animals — she gets VERY excited when she sees them, so any introductions will have to be done very slowly. Honestly, it would be best that she be the ONLY pet… We do think she would be OK with older kids — she is a bit heavy and headstrong to be around small kids.
Ursa was rescued from a shelter in California where she was set to be euthanized. We were able to save her on her last day and get her transported up to WA. We believe she is spayed (she does have a scar on her belly), but we are not 100% sure. What we do know is that she does have an enlarged heart and even though she is not on medicine now for her condition, it is inevitable that she will need support one day as her heart disease progresses.
Ursa walks great on a leash for her short walks. Due to her heart and abnormal joints (because of her breed), we do not recommend any strenuous exercise for this lady.
We think Ursa is what they call an American Bully or an Exotic bully… They are becoming popular in southern California, and they are purposefully bred to look the way she does (with a little bit of dwarfism and hypermusculature). Thankfully, they were bred with temperament in mind as well as looks, so these dogs are usually solid behaviorally.
Ursa is an incredibly beautiful lady with an equally beautiful soul. She will need to find a very special owner that can cater to her needs and make her life happy and comfortable.
Adoption fee (includes spay/neuter, microchip, rabies vaccine, and a health check from a vet): $250
About OPHS
At the Olympic Peninsula Humane Society, we are committed to caring for and finding permanent homes for the homeless animals of Clallam County. As an open admission shelter, we take in any animal that is brought to us. We do not turn animals away. Each year approximately 2,000 animals are brought into the shelter. We rely on the generosity of our community to help care for our residents. Thank you to everyone who makes a donation or adopts an animal into your family.
Upcoming Events
Every Saturday – Petco Adoption, 10 a.m. – 2 p.m.
Wednesdays
6 p.m. – Puppy Kindergarten Training
7 p.m. – Puppy High School
8 p.m. – AKC STAR Puppy
Sundays
2 p.m. – Beginning Training
3 p.m. – AKC Canine Good Citizen
4 p.m. – Loose Leash Walking
5:30 p.m. – Puppy Kindergarten Training
6:30 p.m. – Puppy High School
Saturday, March 18 – Microchip/License Clinic and Collar Exchange, 1 p.m. – 3 p.m.
Saturday, April 29 – 5th Annual Meowgaritas and Mutts Dinner and Auction
2017 OPHS Board Meeting Dates
Join us at 12 p.m. in the conference room at Green Crow,
727 E. 8th St., Port Angeles
March 23, 2017
April 27, 2017
May 25, 2017
June 22, 2017
July 27, 2017
August 24, 2017
September 28, 2017
October 26, 2017
November 16, 2017
December 21, 2017